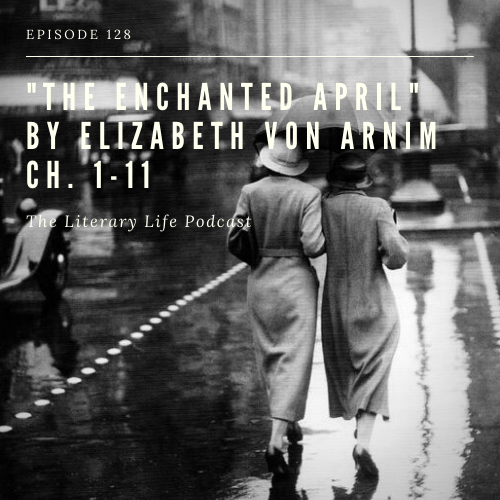 Episode 128: "The Enchanted April" by Elizabeth von Arnim, Ch. 1-11
Welcome back to The Literary Life podcast with Angelina Stanford, Cindy Rollins and Thomas Banks. This week our hosts begin their discussion of The Enchanted April by Elizabeth von Arnim, covering chapters 1-11. Thomas gives some interesting biographical information about von Arnim, and Angelina shares some perspective on appreciating the art and the life of artist. Cindy highlights the fact that we see only caricatures of the women in England, and it isn't until they get to Italy that we begin to see their real selves. Angelina also points out that all the women are on identity quests in this story. Angelina unpacks some of the metaphors in this book and the Dante-esque images, in addition to the key place beauty has in the story.
Listen to The Literary Life:
Commonplace Quotes:
Whoso maintains that I am humbled now

(Who await the Awful Day) is still a liar;

I hope to meet my Maker brow to brow

And find my own is higher.

Frances Cornford, "Epitaph for a Book Reviewer"
"(The) sufferer is by definition a customer."

Wendell Berry, from The Art of the Commonplace
Beauty will save the world.

Fyodor Dostoyevsky
Sonnet 98
by William Shakespeare
From you have I been absent in the spring,
When proud-pied April, dressed in all his trim,
Hath put a spirit of youth in everything,
That heavy Saturn laughed and leaped with him.
Yet nor the lays of birds, nor the sweet smell
Of different flowers in odour and in hue,
Could make me any summer's story tell,
Or from their proud lap pluck them where they grew:
Nor did I wonder at the lily's white,
Nor praise the deep vermilion in the rose;
They were but sweet, but figures of delight
Drawn after you, – you pattern of all those.
    Yet seem'd it winter still, and, you away,
    As with your shadow I with these did play.
Book List:
The Enchanted April by Elizabeth von Arnim
Support The Literary Life:
Become a patron of The Literary Life podcast as part of the "Friends and Fellows Community" on Patreon, and get some amazing bonus content! Thanks for your support!
Connect with Us:
You can find Angelina and Thomas at HouseofHumaneLetters.com, on Instagram @angelinastanford, and on Facebook at https://www.facebook.com/ANGStanford/
Find Cindy at morningtimeformoms.com, on Instagram @cindyordoamoris and on Facebook at https://www.facebook.com/cindyrollins.net/. Check out Cindy's own Patreon page also!
Follow The Literary Life on Instagram, and jump into our private Facebook group, The Literary Life Discussion Group, and let's get the book talk going! http://bit.ly/literarylifeFB
Subscribe to The Lit Life: