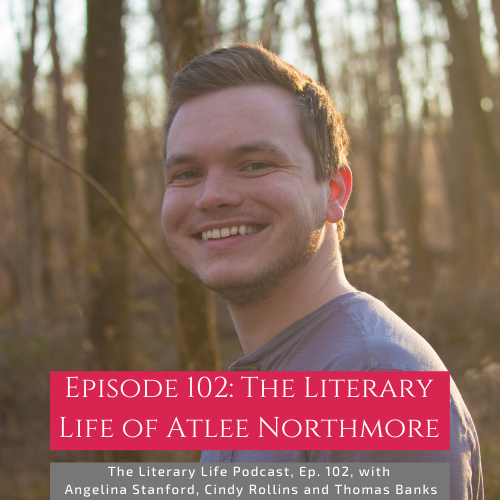 Episode 102: The Literary Life of Atlee Northmore
On The Literary Life podcast this week, Angelina Stanford, Cindy Rollins and Thomas Banks are chatting with their indispensable assistant, Atlee Northmore, about his literary life. Atlee shares what it was like for him growing up in a family that supported reading and kept books around at all time. He talks about his school years and both his positive and negative memories of reading for school. Talking about college, Atlee tells about wanting to be a film maker and his experience studying writing screen plays. He shares how college and life circumstances temporarily dampened his love for story, but taking classes with Angelina and listening to the podcast has brought it all back.
Also, if you are listening to this episode on the day it drops, you are not too late to sign up and join our 2021 Back to School online conference with special guest James Daniels! Get all the info and register at morningtimeformoms.com!
On August 5th, Cindy Rollins' New Mason Jar podcast will be officially launching, so head over to thenewmasonjar.com to learn more and subscribe!
Listen to The Literary Life:
Commonplace Quotes:
One's life is more formed, I sometimes think, by books than by human beings: it is out of books one learns about love and pain at second hand. Even if we have the happy chance to fall in love, it is because we have been conditioned by what we have read, and if I had never known love at all, perhaps it was because my father's library had not contained the right books.

Graham Greene
…there is also a sort of wild fairy interest in them, which makes me think them fully better adapted to awaken the imagination and soften the heart of childhood than the good-boy stories which have been in later years composed for them.

Sir Walter Scott, from German Popular Stories
Information can thrill, but only once.

Wendell Berry
All suffices reckoned rightly:

Spring shall bloom where now the ice is,

Roses make the bramble sightly,

And the quickening sun shine brightly,

And the latter wind blow lightly,

And my garden teem with spices.

Christina Rossetti, "Amen"
Inventory
by Dorothy Parker
Four be the things I am wiser to know:
Idleness, sorrow, a friend, and a foe.
Four be the things I'd been better without:
Love, curiosity, freckles, and doubt.
Three be the things I shall never attain:
Envy, content, and sufficient champagne.
Three be the things I shall have till I die:
Laughter and hope and a sock in the eye.
Book List:
Travels with My Aunt by Graham Greene
The Way of Ignorance by Wendell Berry
A Series of Unfortunate Events
Wingfeather Saga by Andrew Peterson
Notting Hill by Richard Curtis
How to Read the Bible at Literature by Leland Ryken
Dune by Frank Herbert
Drums of Autumn by Diana Gabaldon
To Say Nothing of the Dog by Connie Willis
The Doomsday Book by Connie Willis
Three Men in a Boat by Jerome K. Jerome
The Chronicles of Brother Cadfael by Ellis Peters
Support The Literary Life:
Become a patron of The Literary Life podcast as part of the "Friends and Fellows Community" on Patreon, and get some amazing bonus content! Thanks for your support!
Connect with Us:
You can find Angelina and Thomas at HouseofHumaneLetters.com, on Instagram @angelinastanford, and on Facebook at https://www.facebook.com/ANGStanford/
Find Cindy at morningtimeformoms.com, on Instagram @cindyordoamoris and on Facebook at https://www.facebook.com/cindyrollins.net/. Check out Cindy's own Patreon page also!
Follow The Literary Life on Instagram, and jump into our private Facebook group, The Literary Life Discussion Group, and let's get the book talk going! http://bit.ly/literarylifeFB
Subscribe to The Lit Life: